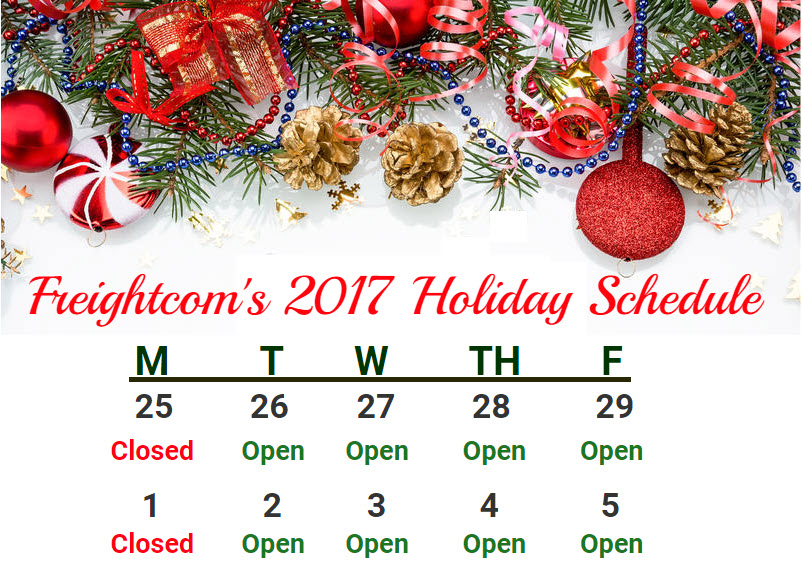 2017 Year- End Holiday Schedule!
How to tackle the holiday season like a pro?
Simple! Plan, prepare and most importantly... know your deadlines!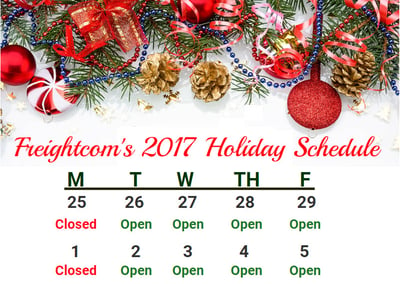 We made a list (and checked it twice) with all of Freightcom's courier partners for their closures and deadlines this holiday season.
Please be advised that due to the significant increase in shipment volumes, our courier
partners have temporarily suspended their guaranteed service delivery until further notice. If a shipment is picked up the day before the holiday, it may not leave the origin terminal until after the holiday weekend. We strongly recommend pick-ups to be entered 1-2 days in advance of holiday closures.
Freightcom and all carriers will be closed Monday, December 25th, and Monday, January 1st, 2018. All Canadian carriers will also be closed on Tuesday, December 26th, however, Freightcom will be open with limited operations. Please note, all carriers will be running with limited operations on Friday, December 22nd and Friday, December 29th. Keep in mind delays may occur during this time.
Please see below to view each courier company's holiday shipping schedules and deadlines:
On behalf of the entire Freightcom Team, we wish you a Happy Holiday Season!