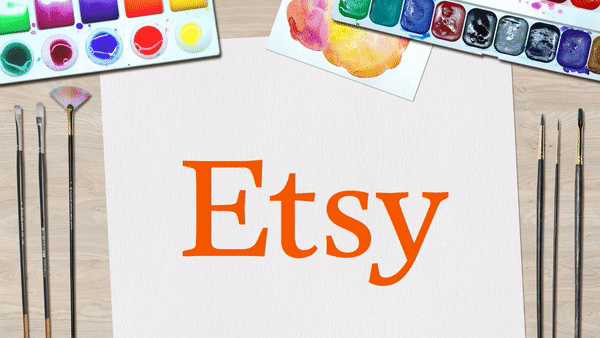 Why You Need Etsy and How It Works
You are used to being admired by friends and family for your artistry. You've also been told by everyone who sees your work that you should be selling it –
"People will pay good money for your creations!"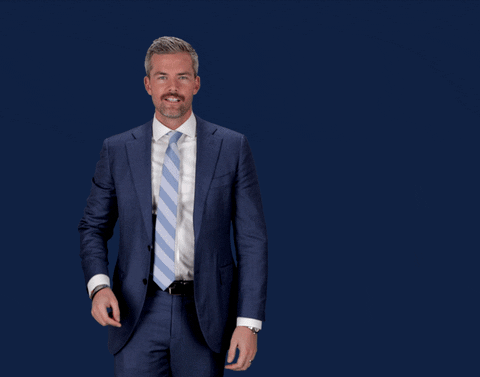 And it's true! Your art does speak to people's sensibilities and they will buy it, IF you set up shop. And just like that, you decide to take the plunge and pursue that long-cherished dream of being a selling artist.
How do you go about being a successful craft-preneur, then? (Yup, I just made that up)
In the 21st century, brick and mortar art stores have been replaced by online stores. If you want to have a side hustle or a booming business selling art, there's no way that you can avoid selling online.
And if you're anything like me, you're no eCommerce whiz or a born marketer.
Enter Etsy.
Among the many options you have for setting up a store – including Amazon, Shopify, Jet, Walmart, Cratejoy, and many more – Etsy is hands-down the go-to marketplace for artists who want to showcase and monetize their creativity, and consumers who want beautiful, quirky handmade items.
Etsy features sellers from 234 countries, with most being from the US, the UK, Canada and Australia.
As an emerging artist, Etsy is the definitive place to start!
Reasons for being on Etsy
A massive customer base: The numbers speak for themselves. As of 2019, there were 45.7 million buyers on Etsy and 2.5 million sellers who've made sales worth almost 5 billion US dollars. These numbers are on the rise. As an artist who's starting out, the statistic that stands out to me and should also make you jump on to the Etsy bandwagon is that almost 95% of Etsy sellers run their shops from their homes and 64% started their Etsy shop as a means to supplement their income.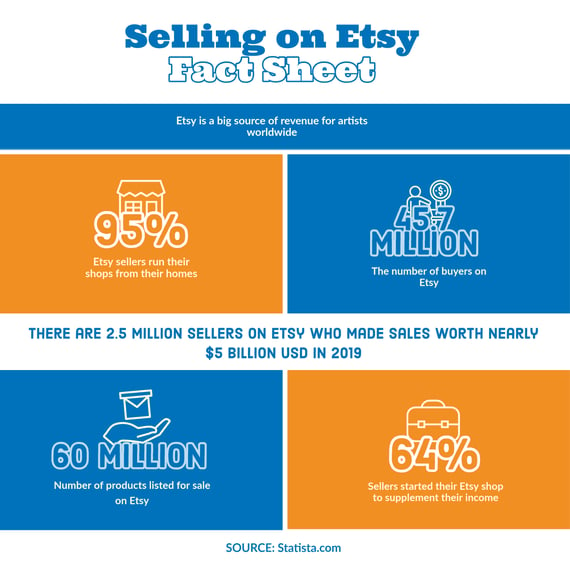 It's ready to go: Setting up takes a little time but it's way easier than making your own website, which would require you to design it, choose an appropriate layout and set up a payment process system. Etsy does all of that for you AND lists important stats such as freight tracking and web traffic. While you do need to do some marketing for your Etsy store, you don't have to worry about coming up with a comprehensive marketing plan that would be necessary for an independent eCommerce store.
The seller community supports you: As the Etsy website tells you, "Community is the heart of all we do at Etsy." It is remarkable that Etsy has managed to retain and promote a healthy community of sellers who are ready to answer any questions you might have about setting up or marketing your products better, or even share stories as a seller. All of this is done through community boards.
Customer Trust: Etsy has been around for 15 years. The work that they have put into branding and development allows sellers to capitalize on the trust that comes with all this work. The kind of niche consumers that Etsy targets look for very specific products (unlike Amazon, for instance, which sells almost everything) and that means you have a readymade audience that already appreciates what you have so painstakingly crafted.
What can you sell?
The Etsy online marketplace has 3 core sections:
Handmade: Over 90% sellers sell in the Handmade segment, which includes clothing, fine art, leather goods – basically anything that requires creativity and imagination!
Vintage: The vintage goods that you sell in this section must be at least 20 years old. These may include clothing, electronics, and computer games.
Craft Supplies: These include raw materials required by people to make creations. The caveat is that you cannot sell items that are 'ready to use'.
TIP: You don't have to be a registered business to open an Etsy store. That said, it is vital to comply with local tax and business laws once you start selling.
How much does it cost?
Joining and opening a shop is free. Sellers pay separate fees for listing and selling items.
Etsy charges a $0.27 listing fee for every item.
For every item sold, there's a 5% transaction fee. If you collect payments through Etsy's own payment processing system, there is a 3-4% + $0.25% processing fee.
For sellers in the US and Canada, Etsy does not charge transaction fees on sales tax, HST (Harmonized Sales Tax) and GST (Goods and Service Tax). Sellers in other countries must include sales tax in the item's price.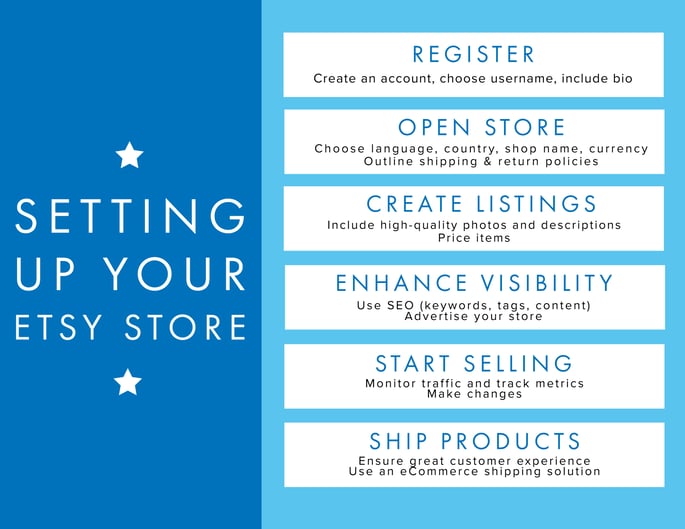 How does it work?
Selling on Etsy is unbelievably simple and easy to start.
You can get going in no time after you've completed a few steps:
Register by creating an account and choosing a username. This includes having a profile picture, a bio, and additional details.
Open your store by navigating to Sell on Etsy. You'll have to choose your language, country, shop name and currency. Make sure to have a professional photo and banner for your profile. It is always a good idea to outline policies for shipping, returns, payments and exchanges.
Create listings after your store has been set up. Include high-quality photos that do justice to your art, as well as enticing descriptions. Price your items after extensive research on pricing on similar items. You want to ensure that you're competitive enough to have a decent sales volume.
Enhance visibility and show up in search results through best practices such as SEO. This means having a good bio, titles, product descriptions, and tags as well as appropriate keywords for all of these. Advertising your store on your social media channels will also get plenty of eyeballs. Paid advertising always helps!
Start selling. It is vital that you continuously monitor traffic to your store and make changes based on the metrics. In summary, go with what works, discard what doesn't, and modify where necessary. Also consider starting ads for specific keywords to drive traffic.
Ship your products. Make sure that you provide a fantastic customer experience and a major aspect of that is fast shipping for which your customers are not paying a bomb. Developing an effective shipping pricing strategy can work wonders!
Use ClickShip with Etsy to save big
Using an eCommerce shipping solution that is efficient, automates your shipping process and gives you access to some of the lowest shipping rates is a good way to do this.
ClickShip is one such solution. It recently integrated with Etsy and offers some stunning benefits that make it worth using if you are selling on Etsy:
All your active products and unfulfilled orders in Etsy are automatically pulled into your ClickShip account
Though your orders will be imported automatically into ClickShip every few hours, you will also be able to manually import orders by pressing the Refresh Orders Button
Any updates to orders in your Etsy account, except cancellations, will be automatically updated in your ClickShip account
You will be able to combine multiple orders going to the same customer into a single shipment

Tracking number and shipment status will be updated automatically in Etsy for the orders fulfilled in your ClickShip account
Ready to get your ART on?
Follow the simple instructions in this step-by-step video and add ClickShip to your Etsy seller account.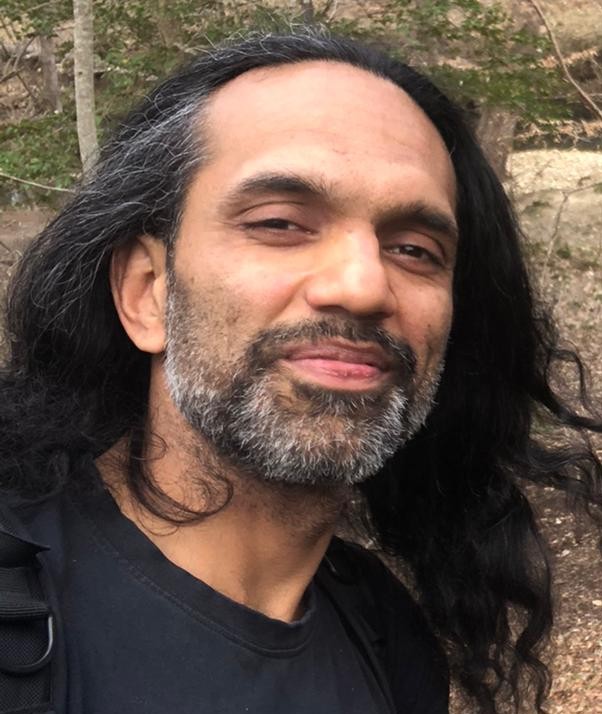 Content Writer at Freightcom