How to Develop an Effective Shipping Pricing Strategy for Your eCommerce Business - Part 2
In our previous blog, titled 'How to Develop an Effective Shipping Pricing Strategy for Your eCommerce Business - Part 1', we looked at the key takeaways of a study from Canada Post and the importance of your eCommerce store's shipping experience.
The research discovered that your shipping price has a significant impact on how satisfied your customers are, and how likely they are to buy from your company. For example, here are some statistics from the study in regards to free shipping: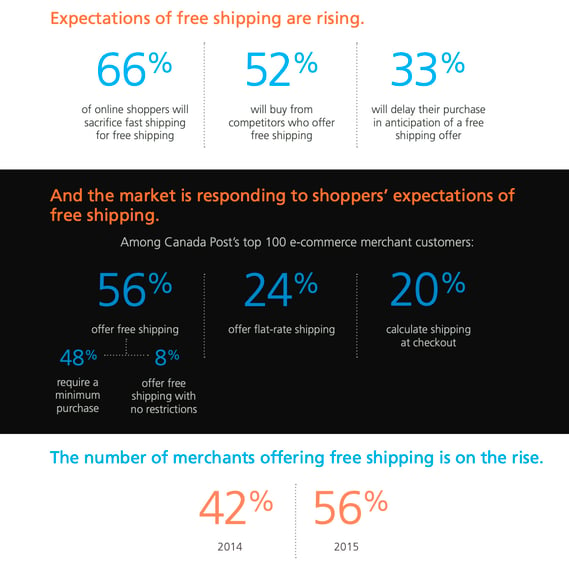 But, how exactly do different shipping practices affect the conversion of online customers? We take a further look at the Canada Post study - titled 'Is the price right? Designing an effective shipping pricing strategy' - to find out.
How do different shipping practices affect conversion?
The whitepaper lays out four common scenarios that eCommerce business owners must consider when it comes to their shipping pricing strategy:
Find the ideal flat rate - Around 24 percent of online merchants offer flat rate shipping, but what actually is the best fee for them? By shifting your flat-rate fee up or down by just $2 you'll be able to see what impact this has on conversion.
Introduce a minimum purchase threshold - By introducing a minimum purchase threshold, it's possible your company might be able to offset the cost of shipping. Most companies set this to around their average basket size.
Adjust an existing minimum purchase threshold - If you have already introduced a minimum purchase threshold, then it's possible you can increase your average basket size by incrementally (and gradually) increasing that threshold. You may lose conversion doing this, but your average basket size will increase.
Use free shipping during holiday seasons - Offering free-shipping year-round will see your business lose money, but doing so during a peak holiday season can open your eCommerce company up to new customers that will buy from your brand in the future.
What can we learn from this report, and how can ClickShip help?
It's clear from the findings of the whitepaper that getting the right shipping pricing strategy can help an eCommerce store owner to optimize their revenue, boost conversation rates and improve the entire customer experience.
Being able to offer your customers free delivery means it's essential that your company must find savings elsewhere.
That's exactly what ClickShip was created for. The innovative, easy-to-use shopping solution allows eCommerce store owners to seamlessly manage the shipping process, access exclusive discounted rates and much more all in one automated platform.
This helps your business save on the time-consuming and highly-expensive manual shipping processes that currently harm your eCommerce business.
Features of ClickShip include:
Exclusive shipping rates.
A highly-advanced shipping management system that helps automate the entire process.
Multiple top-tier carriers options.
A smart box calculator that uses artificial intelligence to select the right box for each package.
Integration with popular eCommerce marketplaces such as WooCommerce, Magento and Shopify.
Order tracking.
Automated shipping label generation.
And much more!
Are you looking for more information about creating a shipping pricing strategy or simply want to find out how ClickShip can transform your eCommerce company's shipping processes on one easy-to-use platform? Contact our team of experts for more information today.