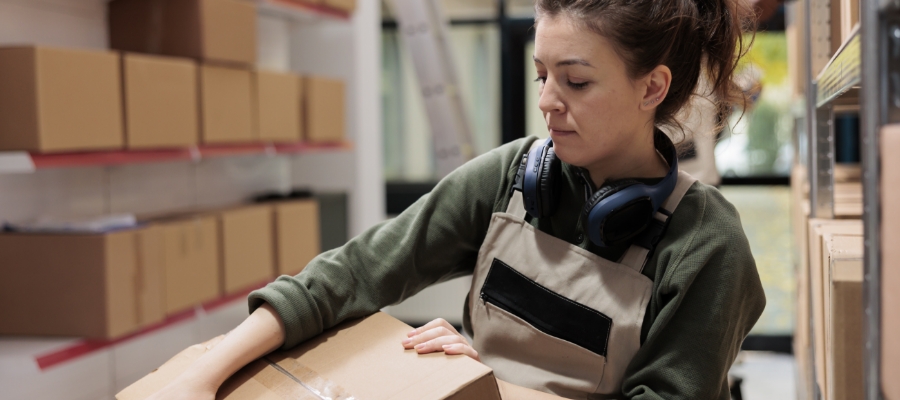 In today's rapidly evolving business landscape, efficient and reliable shipping services play a pivotal role in the success of small-to-medium sized enterprises (SMEs).
With customer expectations at an all-time high, businesses must carefully consider their shipping strategies to meet demands while optimizing costs.
This article delves into five widely used shipping services—Domestic LTL shipping, Domestic Parcel shipping, Cross-border shipping, international shipping, and White Glove shipping services—and highlights why they have become indispensable tools for SMEs.
Domestic LTL Shipping: Streamlined Freight for Local Needs
Domestic Less-Than-Truckload (LTL) shipping is a cost-effective option for SMEs looking to ship goods locally or within a specific region.
Unlike traditional full-truckload shipping, LTL allows multiple businesses to share space on a single truck, reducing costs and environmental impact.
This service is particularly beneficial for SMEs with smaller shipments that do not require an entire truck, typically between one and six pallets per shipment.
The streamlined approach ensures that businesses only pay for the space they need, making it an economical choice.
Domestic Parcel Shipping: Speed and Convenience at Your Doorstep
For smaller shipments or individual orders, Domestic Parcel shipping is invaluable.
This service caters to packages that can be handled by a single person and is especially popular among retail businesses.
With the rise of online shopping, SMEs rely on Domestic Parcel shipping to deliver products directly to customers' doorsteps quickly and efficiently.
This service often offers tracking capabilities, enabling businesses to keep customers informed about their orders' progress, enhancing customer satisfaction.

Source: Ibis World
Cross-Border Shipping: Expanding Horizons with Neighbouring Markets
Cross-border shipping bridges the gap between local and international markets, enabling SMEs to extend their reach beyond national borders.
Cross-border shipping facilitates trade with neighboring countries, such as the US and Canada, allowing businesses to tap into new customer bases.
This option offers growth opportunities and can be a steppingstone to full-scale international shipping.
International Shipping: Reaching Global Markets with Ease
International shipping is a cornerstone for SMEs with ambitions to access global markets.
This service empowers businesses to send products worldwide, leveraging the expansive reach of the international logistics network.
While it involves more intricate documentation and regulations, the benefits are substantial.
SMEs can reach diverse customer bases, establishing brand recognition on an international scale.
International shipping also allows businesses to diversify their revenue streams, minimizing risks associated with a single market.
White Glove Shipping Services: Delivering Excellence in Customer Experience
In an era where customer experience reigns supreme, White Glove shipping services stand out as a premium option.
This service goes beyond traditional shipping, offering personalized attention to each shipment, particularly on large and high-value items such as furniture and appliances.
White Glove services may include unpacking, assembly, installation, and even removal of packaging materials, ensuring a seamless experience for customers.
SMEs that prioritize exceptional service and have delicate or high-value goods often opt for White Glove shipping to provide an unmatched level of care and attention to detail.

Why These Shipping Services Are Widely Used by SMEs?
Small-to-medium sized businesses have distinct needs and limited resources compared to larger enterprises.
The shipping services discussed above have gained popularity among SMEs for several reasons:
Cost-Efficiency
Domestic LTL shipping and Domestic Parcel shipping offer cost-effective options for businesses with smaller shipments or localized operations, optimizing expenditure without compromising service quality.
Accessibility
Cross-border shipping and international shipping enable SMEs to explore new markets without the need for extensive resources. These services break down barriers to entry and facilitate global expansion.
Customer-Centricity
White Glove shipping services align with SMEs' commitment to providing exceptional customer experiences. By going the extra mile in service, businesses can distinguish themselves in a competitive market.
Scalability
Each of these services is scalable, accommodating SMEs as they grow and adapt to market demands. Businesses can adjust their shipping strategies without significant disruption to their operations.
Diversification
With the ability to choose from a range of shipping services, SMEs can diversify their operations, targeting different customer segments and markets to reduce risk and ensure steady growth.
Freightcom Connects You to These Services and More!
While all these services are available to any business owner through multiple different carriers, it can be difficult to ensure that your business is getting the best service at the best price.
Freightcom's all-in-one shipping management platform partners with the most reputable carriers in North America to offer your business real-time, discounted shipping rates on all the services discussed above and more!
Contact one of our shipping experts today and see how Freightcom connects you to better shipping for your business.