During these uncertain times, the world has had to adapt to a new normal. COVID-19 has transformed (perhaps for good) our travel, our business practices, and our spending habits. Today, as more and more consumers spend less and stay home, many businesses are struggling to figure out a solution for the sharp decrease in demand.
However, one aspect of the economy that continues to function and even thrive is eCommerce. It is now a necessary and essential tool that all physical store owners need to consider during these times.
Let us walk you through how and why you should move your physical brick and mortar store to an eCommerce platform, and how you can make the best choice.
Why Should You Build an eCommerce Store?
A sign of the times

: According to Commerce Next, 35.5% of sales have already shifted from physical stores to online stores during the crisis

Serious money to be made

: The eCommerce share of total global retail sales is approximated at 22%
Favourable cost-benefit ratio: The cost of moving your store online is low compared to the losses you may incur while your sales are on hold.
Ease of operation: Once you move your store, you can operate from anywhere, can easily scale if need be and can use analytics to track and improve performance.

How Can You Move Your Physical Store Online?
Once you're convinced about the benefits of moving things online, the next obvious step is to choose from the plethora of available options and start building your store.
There are many wonderful eCommerce platforms to help you build a digital storefront. Many do not require any website-building expertise, time, money, or brainpower, while others require a deep dive into layouts, widgets customizability and much more.
It's not an easy choice!
With so many eCommerce platforms to choose from, you need a checklist of feature/functionalities that will help you to narrow down your options. Here are what we consider to be 9 essential features to consider when choosing an eCommerce platform: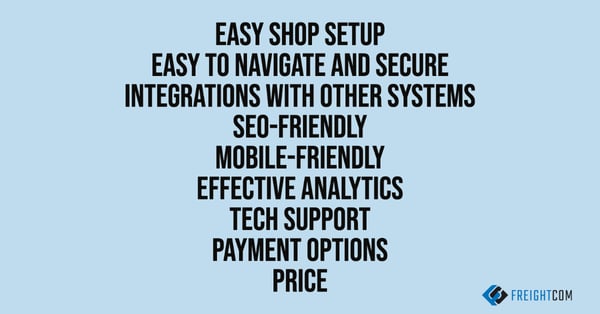 Easy shop setup: Opt for a platform that is easy to set up and design. You should be able to recreate the uniqueness and feel of your brand; choose a template that blends with your brand. Templates are fantastic because they don't require you to deploy expensive external assistance and don't require you to be a design wizard.

Easy to navigate and secure: This one is obvious! Choose a website that's easy for your customers to browse and navigate. You don't want them to love your product but have a frustrating buying experience. Online shoppers expect a smooth experience that's quick and painless. They want to give you their money; don't make them jump through hoops to do so!Also, your eCommerce platform should offer top-notch security; ideally, deploy one that supports HTTPS/SSL for a safe and secure checkout.
Integrations with other systems: Having too many choices can be detrimental but not always! Choose a platform that integrates with your existing systems and marketing channels, such as Facebook. It also needs to run smoothly with your eCommerce CRM sales and marketing platforms. Make sure plugins and extensions are available to use.

SEO-friendly: Shoppers should not have to work hard to find your business online. To ensure this, your store needs to ranks high in search results, especially if you're new to the eCommerce game. Look for an eCommerce platform that's SEO-friendly and one that allows you to use your own domain name, add a blog, and collect customer reviews.

Mobile-friendly: Mobile shopping is now the norm rather than an upcoming eCommerce trend. Ensure that the eCommerce platform you choose allows customers easy access to the website. It's simple - the easier the interaction, the higher the chances of making a sale.

Effective analytics: Especially because you're new to eCommerce, it's important to monitor performance. Seek a platform that allows you to monitor all important aspects—number of sales, payment, order amounts, etc., along with stats that are easy to understand.

Tech support: If the terms HTML, CSS, and JavaScript sound intimidating to you, it would be advisable that you opt for an eCommerce platform with a solid support team. Moreover, it's always beneficial to have real humans to answer all your questions!

Payment options: This one is also pretty obvious! Your online customers should find it easy to pay for your products, or else how will you make money? PayPal, Square, Apple Pay, and Stripe are examples of popular and secure payment gateways.

Price: While some platforms require standard monthly fees, others offer flat rates. Also, some require additional costs for subscriptions. Make sure you take all costs as well as pros and cons into account.
Let's Look at the Best Options!
To move your physical store online you need to find a hosting provider that will host your website, a domain that your brand will be associated with and an eCommerce platform that will be the home of your products.
We've put in a lot of research and consider the following to be the best available options to establish your eCommerce platforms that we suggest are:
Upload your products online with good images and descriptions

Now that you've decided which eCommerce builder you'll be using, we suggest you start uploading the catalogue of products that you have online. Remember that though it's true that you will have an established customer base (those who came into your physical store), you also need to make sure you optimize for new customers.
Use services like SEMrush, Moz and Ahrefs to see what keywords your products rank for and write search engine optimized (SEO) product descriptions. All your basic pages, homepage, category pages and contact us, etc., should also be optimized for SEO.
Taking high-quality images of your products will make a good impression, help with branding and will make the content of your website more shareable.
How do you set up payments?

There are numerous ways that you can set up payments. Websites such as Shopify have their own payment system. You can, however, easily add payment processors such as Paypal, Stripe, Apple Pay, Amazon Pay, Shop Pay and other third-party providers.
An important aspect when considering payments is to make sure your website and payment system are PCI compliant. PCI DSS compliance (Payment Card Industry Data Security Standard) is a mandate required by credit card companies to securely accept and process online payments. To read more about this check out their official website.
You are now ready to move your physical brick and mortar store to an online store! Make sure you utilize your social media channels and get the word out! During this time, it is imperative that we provide solutions to our customers quickly and effectively, contact the ClickShip team if you still have questions about how you can do that for your customers.
How do you integrate shipping?

Shipping costs vary between carriers and the type of product you may be shipping. There are two standard ways of accounting for shipping costs, flat rate shipping and free shipping.
Flat rate shipping is a common pricing structure for eCommerce businesses. As a customer, factoring additional shipping charges is more convenient and fair on a per order basis. Charging $4.95 per shipment works a lot better than charging shipping per item. With Free shipping, you account for the cost of shipping in the product's price itself. According to most research, customers prefer this method rather than paying for shipping separately.