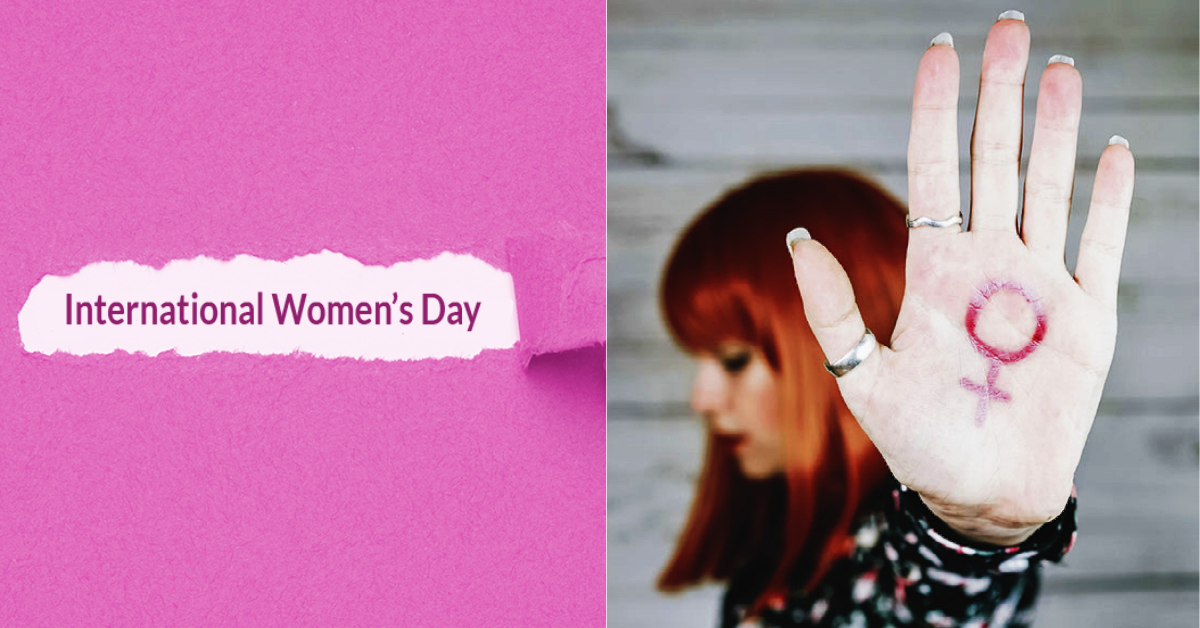 International Women's Day 2021: Women Who Rock the World!
American political activist Angela Davis famously declared:
"I am no longer accepting the things I cannot change. I am changing the things I cannot accept."
It is 2021, and we can no longer accept gender inequality and gender bias. And that is what International Women's Day 2021, with its theme "Choose to Challenge", is all about!
Till very recently, the parameters of success for women were universally defined by their ability to adjust to a culture of male dominance, this culture all the more toxic for women of colour. Even now, as we celebrate advances in fields such as technology and healthcare, the world is still grappling with issues of gender inequality. Women still cannot access the same choice of jobs as men and violence directed at women is still an everyday occurrence.
Challenging and overthrowing this status quo is at the heart of International Women's Day 2021.
The first step towards creating an inclusive and equal world is making women's stories more visible. As a progressive organization with equality, diversity, and inclusion as its principles, Freightcom recognizes the need to acknowledge and celebrate women leaders.
Today's post is all about these positive role models who have led by example and inspired women to work towards a world where empowered women are a norm and not outliers!
A disclaimer - this list is not exhaustive! There are more women leaders now than ever before in many arenas -- including politics, activism, healthcare, and more. Our choice of women leaders here only represents the tip of the iceberg and is an acknowledgement of the efforts being made by women to make the world a more equitable place!
Let's start with the youngest woman leader on the world stage today!
Greta Thunberg, Climate Activist
Whether or not you believe in climate change, it's very likely that you've heard of Greta Thunberg. This 18-year old Swedish activist has initiated a worldwide movement for climate change and has inspired children and adults the world over with her fiery brand of environmental activism. She is already one of the most powerful voices in the world today and will be a force to reckon with in the decades to come. Named TIME's Person of the Year in 2019, Thunberg began by holding strikes for climate change outside the Swedish parliament to bring attention to climate change.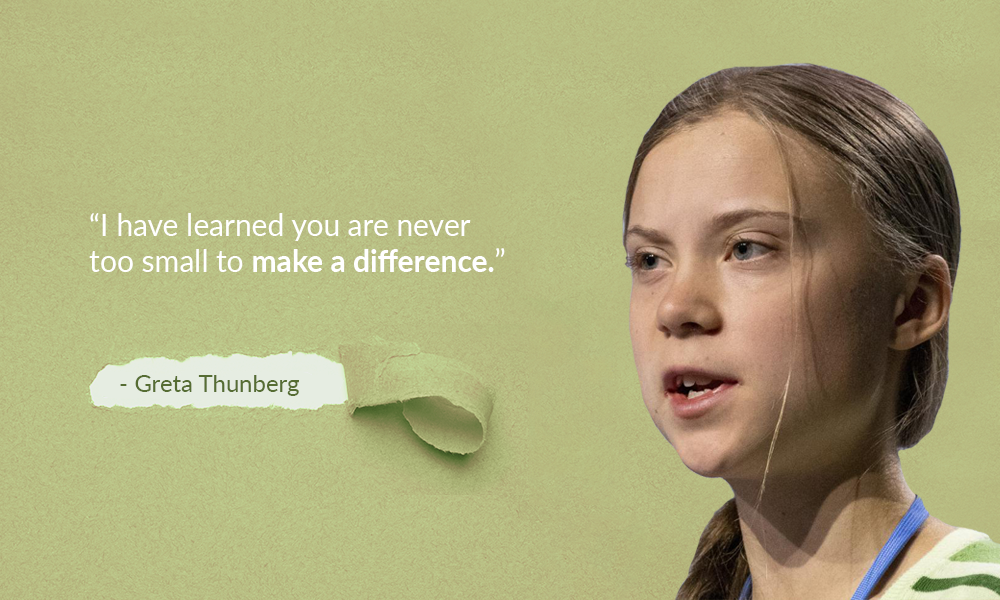 In September 2019, Greta delivered a strong speech against capitalist greed and exploitation at the United Nations' Climate Action Summit. Here's an excerpt from her "How Dare You" speech, addressed to leaders and lawmakers.
"You have stolen my dreams and my childhood with your empty words. And yet I'm one of the lucky ones. People are suffering. People are dying. Entire ecosystems are collapsing." She added, "We are in the beginning of a mass extinction, and all you can talk about is money and fairy tales of eternal economic growth. How dare you!"
Kamala Harris, Vice President, USA
Kamala Harris has many 'firsts' to her name. In January, she became the first woman and first person of colour to be sworn in as Vice President of the United States. In 2016, she was the first South Asian American and the second Black woman to be elected to the Senate. She is also the first woman and first Black person to be elected as Attorney General of California (in 2010).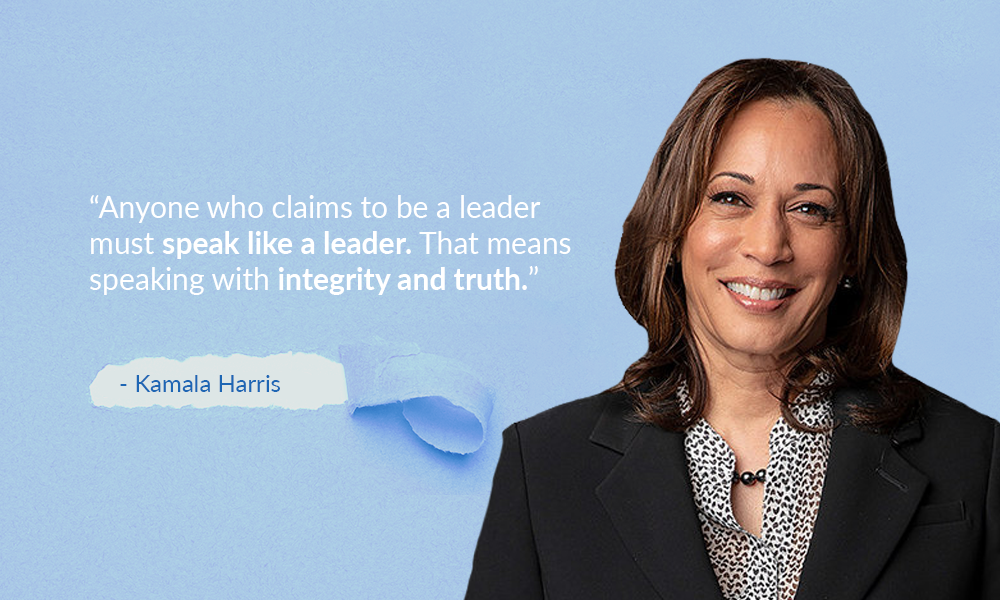 Harris is an epitome of the phrase "shattering glass ceilings" and has inspired women of colour to break free of the chains of patriarchy, racism, and gender inequality.
Harris says that her mother used to tell her, "Kamala, you may be the first to do many things, but make sure you're not the last."
We can only hope that Harris will add another major first to her vast repertoire by becoming the first woman president of the US in the years to come.
Vandana Shiva: Scientist, Environmental Activist, and Writer
Vandana Shiva, Indian physicist and environmental activist, says, "Over the past three decades I have tried to be the change I want to see." Her work as an environmental activist has spanned across four decades and has focused on increasing biodiversity in agriculture and advocating against corporate monopoly over seeds. Most of all, she's known for her national and international green movements against genetically modified crops. She established the 'Research Foundation for Science, Technology and Ecology' in 1982 and a national movement named 'Navdanya' in 1991 "to protect the diversity and integrity of living resources (native seed, promotion of organic farming and fair trade)."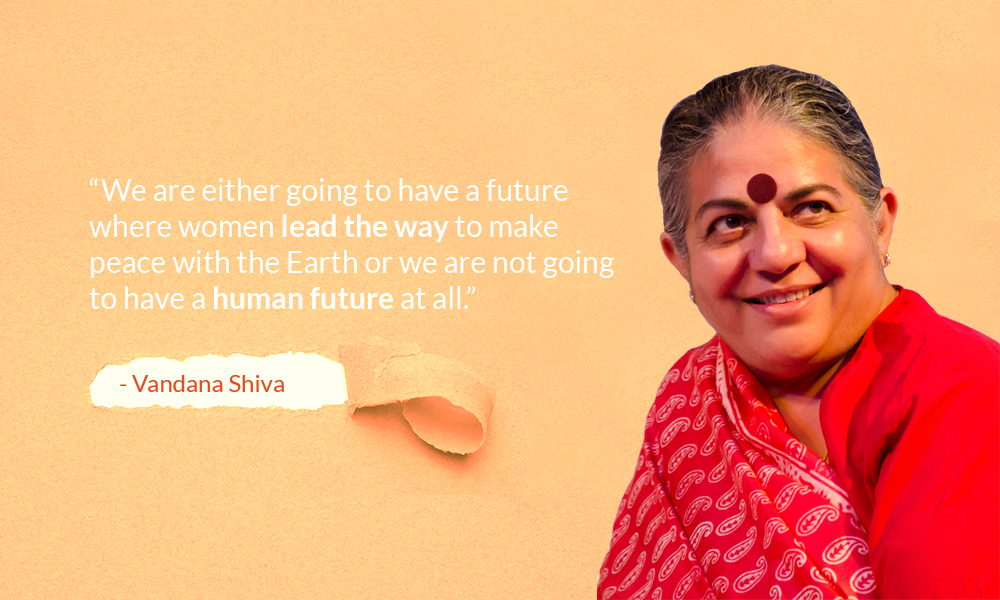 Shiva has served as advisor to the Indian government and to non-governmental organizations worldwide, and has been awarded numerous times. She has been awarded the Right Livelihood Award (known as 'Alternative Nobel Prize'), the Order of the Golden Ark (Netherlands)' for outstanding services to conservation and ecology, 'Global 500 Award' of the United Nations Environment Programme (UNEP), the 'Earth Day International Award 'of the United Nations (UN), and the 'Pride of the Doon Award' from Doon Citizen Council, Dehra Dun, India.
She has authored more than 20 books and over 500 papers in leading scientific and technical journals.
Jacinda Ardern: Prime Minister of New Zealand
Jacinda Ardern is a world leader like no other.
She was the world's youngest head of state when she was first elected Prime Minister of New Zealand in 2017, and since then she has gone on to show just why she is such a fantastic leader.
Ardern is known for her exemplary handling of crises. Under her leadership, New Zealand has proven to be the most successful country in terms of a national response to Covid-19. She's often represented as the kind of leader that every country needs right now – or 'the anti-Trump'– for the traits that she has exhibited during her tenure as New Zealand's PM – kindness, tolerance and authenticity. Ardern had her first child while in office – in June 2018– making her the second elected head of government to do so.
Even while she's driven by compassion, Ardern has never backed down from making tough decisions when they are required. For instance, within a month of the Christchurch Massacre that killed 51 people, Arden banned assault rifles and semi-automatic weapons across the country.
She famously declared, "To me, leadership is not about necessarily being the loudest in the room, but instead being the bridge, or the thing that is missing in the discussion and trying to build a consensus from there."
Ngozi Okonjo-Iweala: Director of World Trade Organization
Dr. Ngozi Okonjo-Iweala took on the role of Director-General of the World Trade Organization (WTO). She joined office on March 1 and became the first woman and the first African to be chosen as Director-General. Even though her appointment was blocked by the Trump Administration, the WTO's General Council agreed by consensus to select Okonjo-Iweala as the organization's seventh Director-General.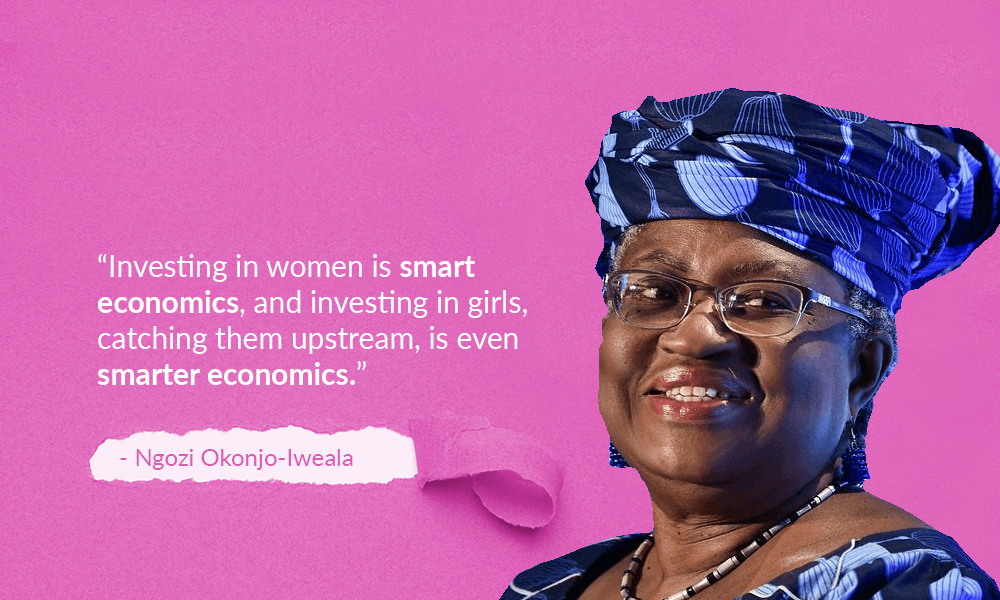 Okonjo-Iweala has a long list of achievements to back up her appointment. She has economics degrees from Harvard University and Massachusetts Institute of Technology, and has served as Nigeria's Minister of Finance twice. She's known for her hard stance towards corruption and has been instrumental in wiping out US$30 billion of Nigeria's debt.
And that's not all! She worked for over 25 years at The World Bank, eventually becoming Managing Director there.
Okonjo-Iweala is a fierce proponent of gender equality. She says, "Investing in women is smart economics, and investing in girls, catching them upstream, is even smarter economics."
Joey Wat: CEO of the largest restaurant chain in China
If you're looking for business inspiration, look no further than Joey Wat, who became the CEO of a Fortune 500 company from a position of complete obscurity. She grew up in an era where girls were not expected to take on any kind of leadership roles. Defying social norms and working her way through multiple factory jobs in a small village in China, Wat became a business leader and executive with a net worth of roughly US$15.1 million.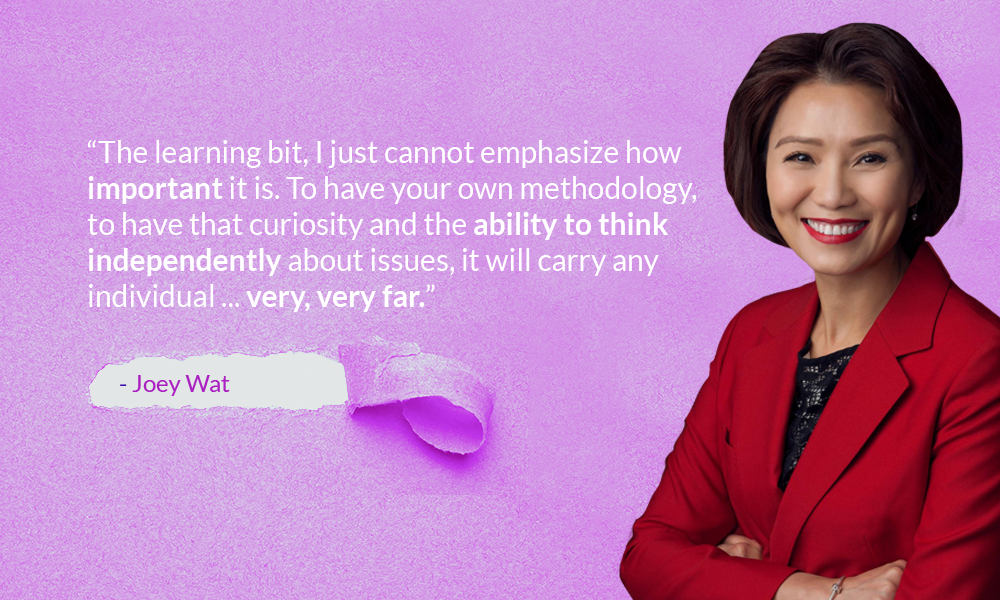 She is now the CEO of the largest restaurant company in China - Yum China - which operates over 10,000 restaurants (Pizza Huts, KFCs, Taco Bells and several Chinese food chains) in 1,400 cities across the country. As CEO of Yum China, Wat has made the company profitable by increasing its minimal digital presence.
Wat combines being an astute business person with a strong sense of compassion. When Covid-19 took hold of China, Wat ensured the delivery of free meals to more than 1,450 hospitals and community centres, while keeping most of her 400,000 staff employed. Yum China still managed to make an operating profit of US$97 million in Q1 2020.
Kiran Mazumdar-Shaw: Chair and Managing Director of Biocon Ltd.
In 2020, Dr. Kiran Mazumdar-Shaw was awarded EY's World Entrepreneur of the Year title and named on Forbes 100 Most Powerful Women 2020 list. Known for being India's richest self-made woman and first female brewmaster, Mazumdar-Shaw's journey to her current powerful position has been tough and one that's full of instances of gender bias.
As the daughter of a brewmaster, Mazumdar-Shaw planned to follow in her father's footsteps. Even after getting an education in brewing, she found herself jobless in 1975 as no company was willing to offer a brewing job to a woman. After working as a consultant for a few years, she took on the reins of Biocon India, the Indian arm of Irish firm Biocon Biochemicals. Launched in 1978, the company produced enzymes for alcoholic beverages, paper, and other products.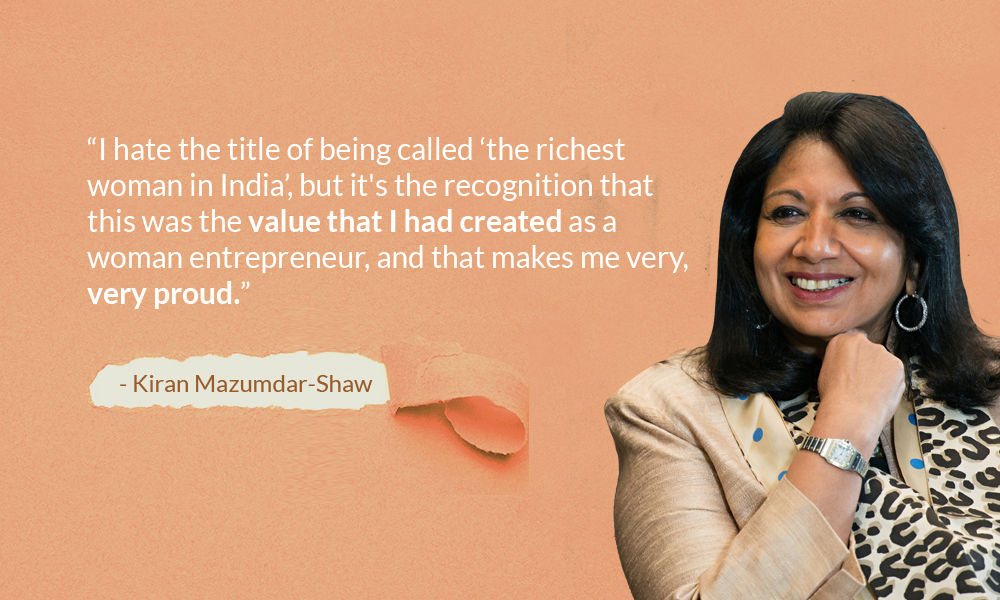 Now, Biocon is Asia's largest insulin producer and has supplied more than 2 billion affordable doses of biosimilar insulins to patients globally. A large part of Mazumdar-Shaw's success can be attributed to her business philosophy of 'affordable innovation' – she believes in universal access to life-saving medicines. And she practices what she preaches - in 2016, Mazumdar-Shaw signed The Giving Pledge, committing 75 percent of her wealth to philanthropy.
She's been awarded numerous times for her work. From being recognized as a 'Technology Pioneer' by the World Economic Forum in 2000 to being named the best entrepreneur in the field of healthcare and life sciences by Ernst & Young in 2002, Mazumdar-Shaw is an inspiration to women worldwide.
Whitney Wolfe Herd, Founder of Bumble
Whitney Wolfe Herd embodies the term 'meteoric rise' like few others do. She co-founded the dating app Tinder in 2013, left the company in 2014, and launched her own dating app Bumble in 2014. This year, she became the world's youngest self-made female billionaire at 31. Bumble is based on Herd's own ethos, which is to empower women to make the first moves in both love and business. Herd's incredible story of achievement is made even more inspiring by the fact that she managed to do this while having a baby. The image of Herd holding her one-year-old son Bobby one-year-old while ringing the opening bell for the American stock exchange has already gone viral.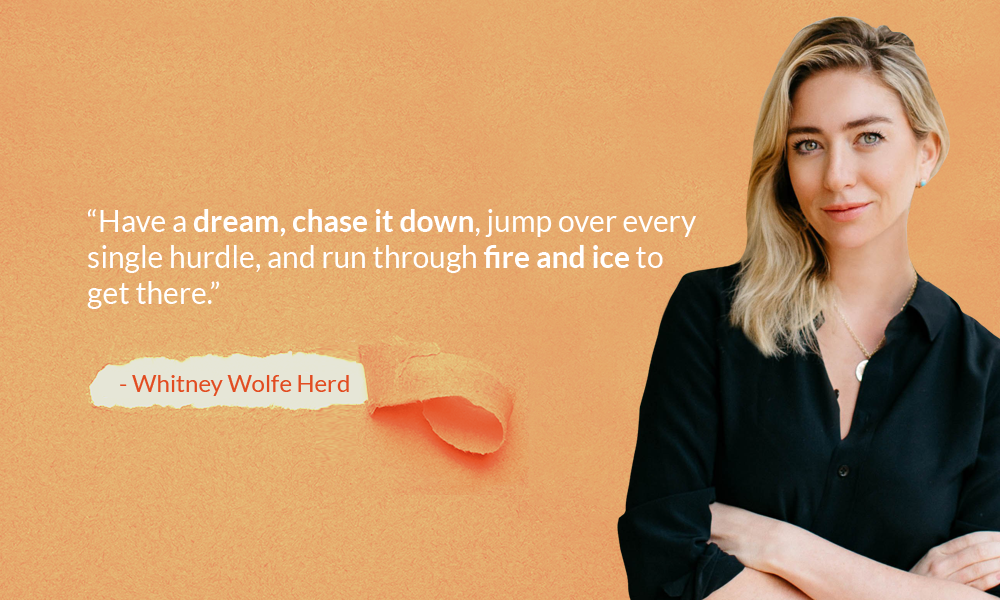 Despite her rapid ascent to success and fame, Herd has had to contend with several setbacks, sexual harassment lawsuits and more. Having emerged unscathed from these negative experiences, Herd has paved the way for women entrepreneurs in more ways than one. She's made Bumble a shining example of parental rights, declaring bonuses, paid leave and flexible start times for new parents.
​Talking about Bumble's success and about becoming a billionaire, she said, "Hopefully this will not be a rare headline. Hopefully this will be the norm. It's the right thing to do, it's a priority for us and it should be a priority for everyone else."
Conclusion
These wonderful women come from different disciplines and it is our hope that as we progress towards gender equality, all women in society are able to fulfill their potential and desire, as men have done throughout history!
As an organization that takes great pride in being progressive, Freightcom does its bit to advance equality and diversity in the workplace. In fact, several women occupy leadership positions at Freightcom and are instrumental in our and our customers' success!
Next week, we will feature Freightcom's amazing women leaders in an International Women's Day 2021 special feature!
Stay tuned!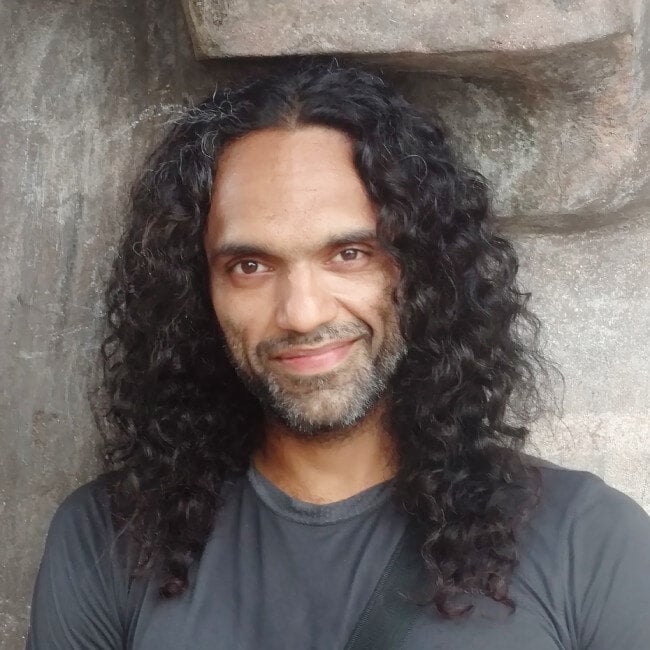 Content Writer at Freightcom