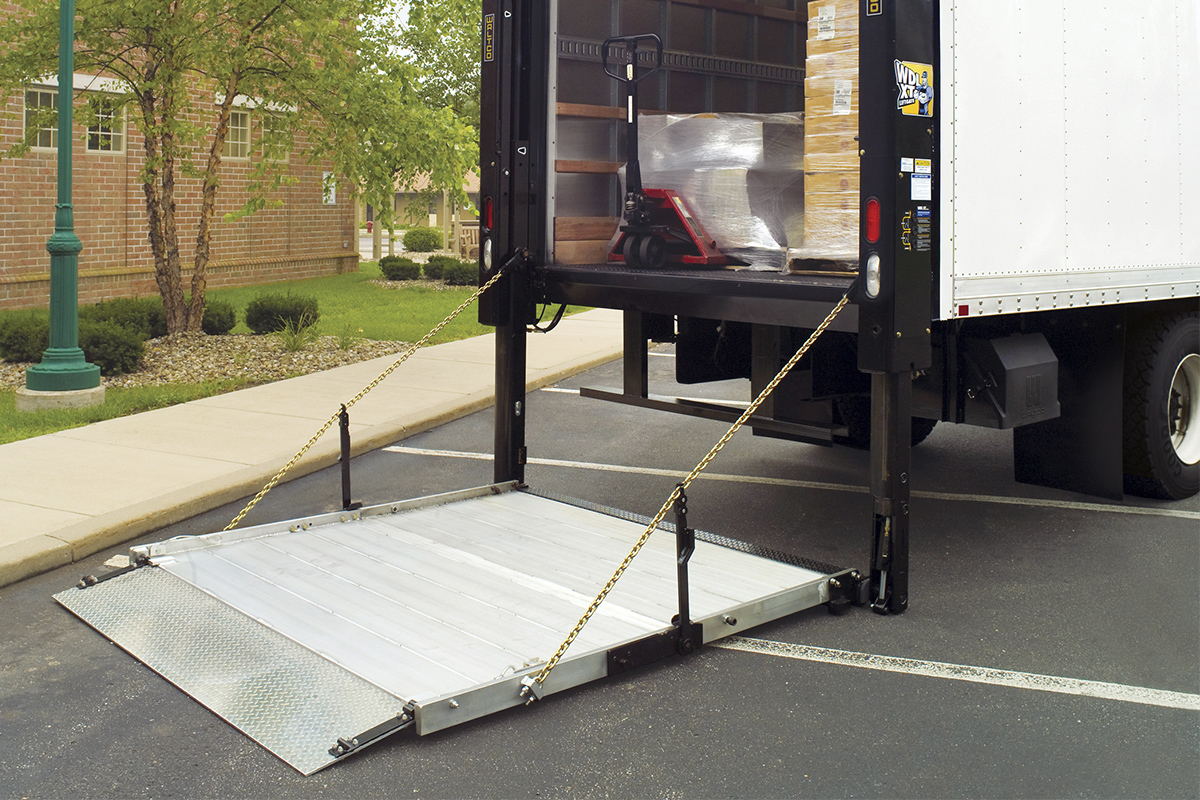 To liftgate or not to liftgate, that is the question.
You've seen the option but may or may not have chosen it. Or – your customer may have requested it upon delivery and you only found out once you were invoiced. It's important to understand what it is and why it's important for your shipments.
What is a liftgate?
A liftgate (or tailgate) is a hydraulic lift attached to the rear of the truck that allows you to load and unload pallets with only a handpump truck.
When is a liftgate required?
It's a crucial part of a pick up or delivery when either (or both) parties do not have loading docks or forklifts capable of loading or unloading the back of the trailer.
How does a liftgate work?
Liftgate's use a hydraulic system that powers them up and down. When required, they will lower to the ground and provide you the ability to push the pallet onto the platform with a handpump which either you or the driver supplies. Once loaded, the driver lifts the gate so it's parallel to the back of the truck, which will allow him to then load the skid inside the trailer.
Are there limitations to the liftgate?
Absolutely. You'll need to understand that liftgates are designed to work with your typical standard size pallets. The gate has a maximum width as well as height and weight limitation. Let me explain;
Depending on the style of truck picking up or dropping off, it may come equipped with roller doors or barn doors. Where barn doors swing open and roller will turn inside the truck. If it's a roller-style, it's going to limit the height of the skid fitting inside through the door. While the height maximum doesn't necessarily mean much with a liftgate, it's still important to know as a roller door may be a more common truck dispatched.
It's typical for the liftgate not to be equal to the maximum width of the trailer. It probably won't be too important as many skids won't exceed 50" but it's still important to consider.
Being mindful of the skid length is very important. If your skid is longer than the platform for the gate, you'll end up with the skid's back end lifting in the air once the gate is lowered. Common sense will probably let you know that it's not going to work without potential for damage if the driver even allows it to happen
The weight of your pallet(s) is something you must also be mindful of. While some lifts may allow 3500lbs, the most you may be looking at is 2000lbs to be safe.

So there you have it. If ever in doubt between who will dispatch what truck or what the maximum length or weight might be, especially when utilizing Freightcom's system when we offer such a wide variety of options, reaching out to our experts to get the answer before shipping is extremely important. Nobody expects you to memorize each carrier's limits, and that's why we have a team that handles these things exclusively.
No account with Freightcom? What are you waiting for? Sign up today free, and browse our selection of carriers and service offerings.