For many shippers, its easy to feel as if the shipping process is generally the same across the board.
While you could argue that to a point, the reality is that every form that shipping takes brings with it unique aspects, and unique challenges.
Shipping is no different, and with the importance of electronic commerce and physical commerce in modern business, knowing how to properly optimize your shipping can pay dividends.
That's why we're going to be looking at five ways you can optimize your shipping process and ensure that your business is equipped to provide the best service possible for your customers.
1. Fine-Tune Your Packaging
Proper packaging is the foundation of a smooth shipping process.
Take the time to evaluate your packaging materials and methods to ensure they are both sturdy and lightweight.
By utilizing packaging that fits your products snugly, you can reduce the risk of damage during transit while optimizing dimensional weight.
This not only saves on shipping costs but also enhances sustainability by minimizing excess material usage.
Additionally, consider incorporating branded packaging to elevate your brand's image and create a memorable unboxing experience for your customers.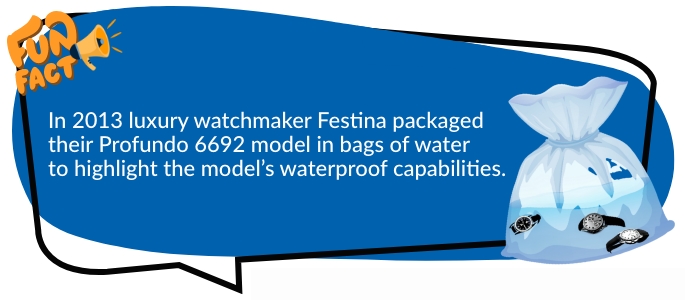 Source: Dieline
2. Enhance Shipping Options
Offering a variety of shipping options is crucial to accommodate different customer preferences, geographical locations, and delivery timelines.
Evaluate different shipping carriers and services to find the most reliable and cost-effective solutions for your business. Better yet, use a shipping application that provides multi-carrier and multi-mode shipping options.
Consider partnering with a shipping management platform like Freightcom that provides access to a wide range of carrier options and shipment types.
This flexibility allows you to provide options such as expedited shipping, free shipping thresholds, or local pickup, catering to the diverse needs of your customer base.
3. Implement Shipment Tracking
Transparent communication and real-time tracking are essential for customer satisfaction and peace of mind.
Integrate a reliable shipment tracking system into your eCommerce platform, providing customers with tracking numbers and regular updates on the status of their orders.
This not only reduces customer inquiries but also builds trust and confidence in your brand.
Customers appreciate being able to monitor their shipments' progress and anticipate their arrival, enhancing their overall shopping experience.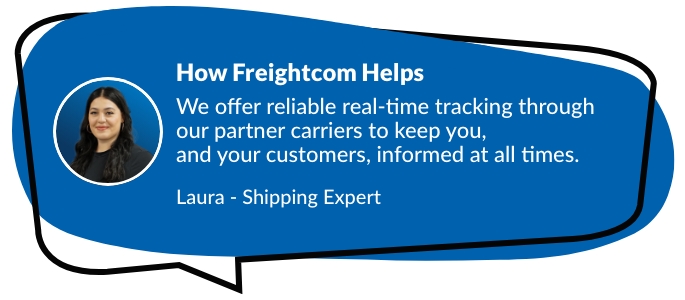 4. Streamline Returns and Exchanges
Handling returns and exchanges efficiently is a crucial aspect of any business.
Simplify the process for your customers by implementing a clear and user-friendly returns policy.
Provide pre-paid return labels, if feasible, to minimize customer effort and ensure a smooth return experience.
Streamlining the returns process not only contributes to customer satisfaction but also fosters brand loyalty and increases the likelihood of a customer purchasing your product.
Analyze return data to identify recurring issues and take proactive measures to address them, reducing future return rates and associated costs.
5. Leverage Data and Analytics
Leveraging data and analytics can provide valuable insights into your shipping operations.
Monitor shipping metrics such as delivery times, shipping costs, and carrier performance to identify areas for improvement.
Analyze customer feedback and reviews related to shipping to gain a better understanding of pain points and opportunities for optimization.
Utilize this information to fine-tune your shipping strategies and enhance the overall efficiency of your shipping process.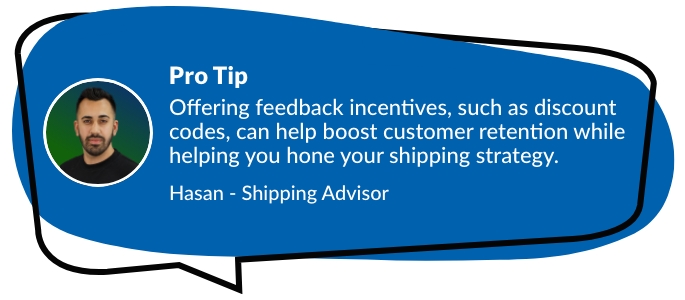 Keep Your Entire Shipping Strategy Optimized with Freightcom
Optimizing shipping requires a holistic approach that combines attention to detail, flexibility, and continuous improvement.
Freightcom gives you access to discounted, pre-negotiated rates on a wide range of LTL and parcel shipping services from leading carriers in North America, plus a host of shipping features that will help in optimizing your shipping.