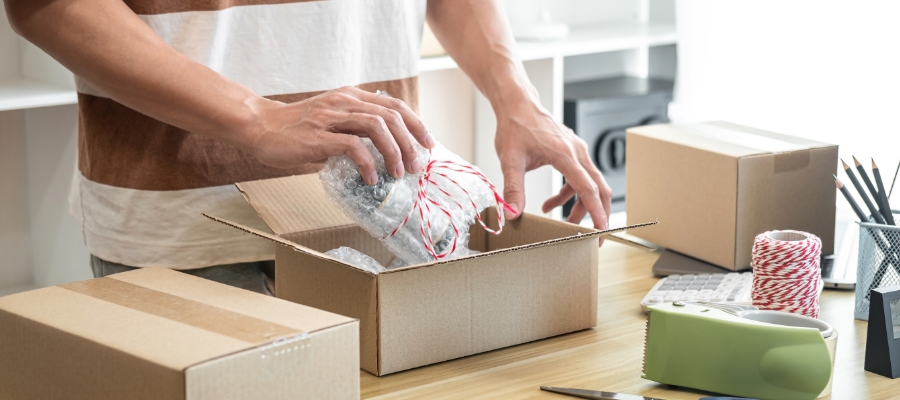 Amazon's Fulfillment by Amazon (FBA) program is a powerful tool for retailers looking to expand their sales channels.
By leveraging Amazon's FBA program, you can tap into their vast network of distribution centers, benefit from their efficient logistics infrastructure, and reach a wider customer base.
With that said, FBA is not without its challenges.
For instance, shipping products to Amazon Fulfillment Centers is an essential aspect of using that tool effectively, but to those inexperienced with this process, mistakes can be all too common.
In this guide, we'll dive into the process of shipping to Amazon Fulfillment Centers and explore how you can optimize your shipping operations to maximize your business's potential.
Understanding Amazon FBA
Before we explore the shipping process, let's briefly touch on the fundamentals of Amazon FBA.
With FBA, you store your products in Amazon's fulfillment centers, and they take care of storage, packing, shipping, and even customer service.
By utilizing FBA, you can focus on growing your business while Amazon handles the operational side.


Source: aboutamazon.eu
Preparing Your Shipment
To ensure a smooth shipping process, it's crucial to prepare your shipment correctly. Here are some key steps to follow:
Product Packaging
Use secure and durable packaging that meets Amazon's guidelines, as outlined on your Amazon Seller Central account. Proper packaging ensures the safety of your products during transportation and storage.
Labeling
Accurate labeling is essential for seamless tracking and inventory management. Amazon provides specific guidelines for labeling products and boxes, including barcode requirements and label placement instructions.
Inventory Management
Maintain accurate inventory records and use Amazon's Seller Central to track your inventory levels. This helps you avoid stockouts and ensures that your products are available for purchase.
Choosing a Shipping Method
When shipping your products to Amazon Fulfillment Centers, you have several shipping methods to consider. These include:
Small Parcel Delivery
Suitable for shipping lightweight and small-sized items, small parcel or courier delivery allows you to ship individual units or small bundles directly to Amazon.
Less Than Truckload (LTL) Shipping
If you have larger shipments that don't require a full truck, LTL shipping can be a cost-effective option. Your products will be consolidated with other shipments, reducing transportation costs. These often require a carrier that delivers to Amazon facilities and often require a specialized quote to ensure deliverability.
Full Truckload (FTL) Shipping
For larger quantities or oversized items, FTL shipping provides dedicated transportation with a full truck. This method offers faster transit times and reduces the risk of damage. Much like LTL, these will also require a specialized quote to ensure it can be delivered to an Amazon facility.

Compliance with Amazon's Requirements
Adhering to Amazon's requirements is crucial to avoid delays or complications with your shipments. Some important considerations include:
Shipping Plan Creation
Use Amazon's Seller Central to create shipping plans and provide accurate information about your shipments, including the number of boxes, units per box, and estimated arrival dates.
Shipping Restrictions
Be aware of any restricted products or hazardous materials that cannot be shipped to Amazon Fulfillment Centers. Review Amazon's guidelines to ensure compliance.
Shipping Notifications
Notify Amazon of your shipment's tracking information to facilitate smooth receiving and processing at the fulfillment centers.
Freightcom Helps Make Your FBA Experience Seamless
With the help of Freightcom, you can put your trust in our Shipping Experts to guide you through every step of the process, so you can focus on growing your business.
And that's not all! Freightcom is an all-in-one shipping management platform that offers you discounted real-time rates from the largest carriers in North America, all in one place, and all for zero upfront and monthly fees.
Reach out today and see how Freightcom can help transform every aspect of your shipping strategy and make the best use of every tool you have to make your business thrive.