Shipping is a complex business. Even if you've been shipping goods for twenty years, or if you're starting a business for the first time, there will always be something new to learn, or something forgotten to be reminded of.
As with any industry, shipping is filled with its own terminology.
It can be easy for new shippers to feel overwhelmed by the sheer volume of terms used, and the worry that not knowing each and every one could lead to trouble can be incredibly intimidating.
We may have some of the leading shipping experts here at Freightcom, but even we need the occasional refresher.
With that in mind, we've collected some of the absolute must-know terms in the shipping world and their definitions right here, so even if you're a first-time shipper you can sound like a shipping expert yourself.
Accessorials
Accessorials are additional, supplemental, or special services provided to ensure the safe delivery of goods, usually charged as a flat fee.
Examples of common accessorials are tailgates, residential pickup or delivery, and signature required on parcel delivery.
Bill of Lading
A Bill of Lading (BOL) is a document acting as a contract between the shipper and carrier acknowledging the receipt of goods for transport.
The BOL describes the nature of goods, weight of goods, size/number of items, and the point of origin and intended destination of goods.
The BOL is the single most important document for pallet shipping.
Customs Invoice
A customs invoice is a document that travels with your shipment and declares the information of the items being shipped.
The customs invoice includes the pickup and delivery addresses, an itemized description of the goods, the shipment value, tax ID of the receiver, reason for export, the country of origin and itemized values for each item.
The customs invoice is essential for any cross-border or international shipments.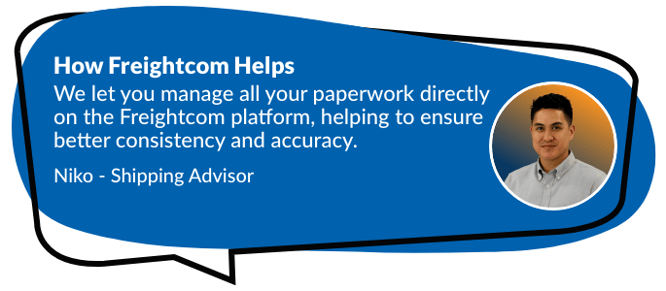 Dimensional Weight
Also known as volumetric weight, dimensional weight is a pricing technique used by carriers to calculate the cost of transporting a package. It considers both the actual weight and the size of the package, with the larger of the two used to determine the shipping cost.
Dimensional weight is used to offset the cost to the carrier of shipping fewer large, lighter items as opposed to shipping several smaller items.
Freight Class
Freight Class is a standardized shipping industry pricing classification defined by the National Motor Freight Traffic Association.
It identifies the size, value, and difficulty of transporting given goods.
Freight class is assigned to LTL (Less than Truckload) shipments travelling within the US, or cross-border between Canada and the US, and is a contributing factor to the carrier's shipping charges.
LTL (Less than Truckload)
LTL, or Less than Truckload shipping, is a method of freight shipping in which multiple pallet shippers share a single truck to transport their goods.
The average LTL shipment consists of between one to six pallets, and weighs between 150 and 10,000lbs.
Oversize/Overweight Surcharge
An additional fee charged by carriers for shipments that exceed the maximum dimensions or maximum weight limit for a given carrier's standard rates.
These fees can be billed retroactively if a pallet or parcel's weight or dimensions are input incorrectly at the time of booking.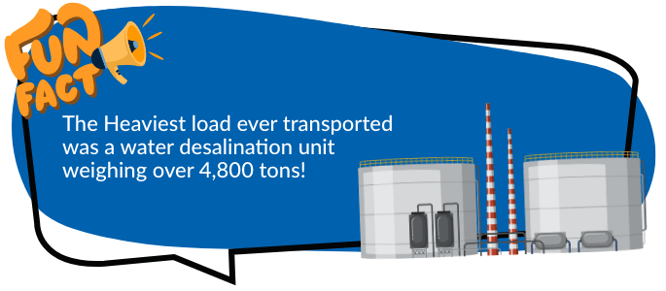 Source: Veritread
Peak Surcharge
An additional fee charged by carriers during Peak Season, meant to offset the increased operational costs that result from the sudden uptick in demand and stress along the supply chain.
While peak surcharge fees are unavoidable, there are ways to lessen their impact on your shipping overheads.
Spot Quote
A quote for a shipment that must be obtained manually due to specialized requirements for the shipment.
Some common shipments that require spot quotes are oversized and overweight shipments, temperature sensitive shipments, and time-sensitive shipments.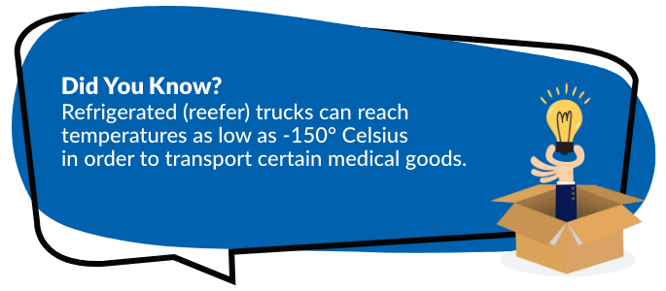 Source: Hale Trailers
Tailgate
A hydraulic or pneumatic platform attached to some freight trucks that allows for the loading and offloading of pallets and other heavy freight without the use of a forklift or loading dock.
Tailgates are sometimes known as liftgates and are one of the most common freight shipping accessorials.
VAT
VAT, or Value Added Tax, is a general tax placed on almost all goods and services sold.
It can be known by different names depending on its originating country, such as GST in Canada.
Shippers are required to include VAT on the declared value of items shipped.
White Glove Services
White glove services are specialized delivery services, typically for large-ticket items such as appliances, furniture, and home fixtures.
White glove services can include delivery to the doorstep, or even into the place of delivery, as well as light assembly, installation, and debris removal.
While white glove services are typically used for residential delivery, they can be used for the delivery of such goods to professional locations such as storefronts as well.
Let Freightcom Manage All Your Shipping from A to Z
Now that you have the vocabulary to sound like a shipping pro, let Freightcom offer you the tools to ship like one, too.
Freightcom is the all-in-one shipping management platform that provides businesses with discounted, real-time rates on LTL and parcel shipping from North America's leading carriers.
We help you quote, book, ship, and track all your shipments in one place, saving your business time and money, all for zero upfront or monthly fees!
Contact one of our shipping experts today and make managing your business shipping as easy as remembering your ABCs.