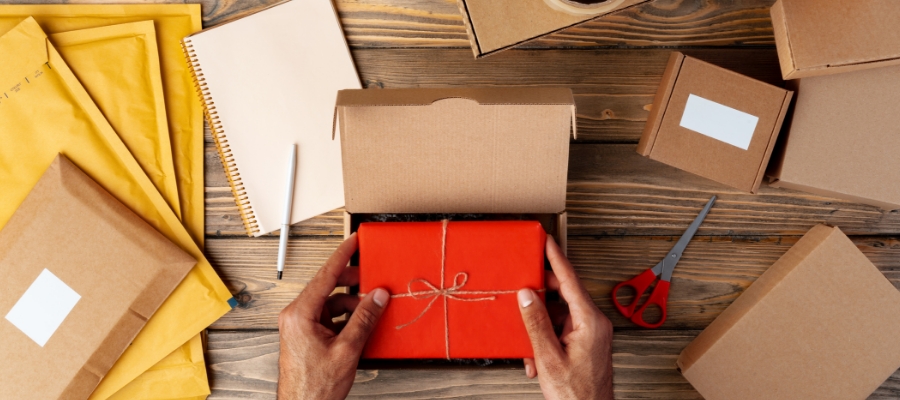 Efficiently shipping flat products using packaging like envelopes, bubble mailers, and small parcel boxes is a crucial aspect of any business that deals with small physical goods.
Getting these items to your customers intact and on time not only ensures customer satisfaction but also reflects positively on your brand's reputation.
In this comprehensive guide, we'll walk you through essential tips and best practices to help you master the art of shipping flat products.
Choosing the Right Packaging
Selecting the appropriate packaging is the foundation of successful shipping. When dealing with flat products, opt for packaging that offers protection while keeping shipping costs under control.
Envelopes

For documents and lightweight items, choose padded envelopes. Often made of thick, waterproof material they provide a cushioned layer of protection against bends and moisture.
Envelopes are also typically the most cost-effective packaging for flat product shipping.
Poly Bags

When shipping soft goods such as clothing or other textiles, poly bags are often the best option. They come in a variety of sizes, are low cost, and due to the soft, pliable nature of the goods they are often used to ship, require no additional padding or dunnage.
Bubble Mailers/Paks

Ideal for small, fragile items, bubble mailers have a built-in bubble wrap liner that safeguards products from minor impacts and shocks.
Small Parcel Boxes

When shipping slightly larger or delicate items, small parcel boxes offer better protection and can accommodate additional cushioning materials.
It is also important to note that when choosing a parcel box for your goods, a new, undamaged box will provide the highest level of security and stability during the shipping journey.


Source: Baddeley Brothers
Securing Your Products
Protecting your items from damage during transit is paramount. Regardless of the packaging you choose, consider these practices to add additional security to your goods:
1. Padding
Insert appropriate padding materials like bubble wrap, foam, or tissue paper to fill any gaps and prevent movement within the packaging.
2. Sealing
Use strong, packing-grade adhesive tape to secure all openings, ensuring that your items don't accidentally slip out during handling and transportation.
3. Layering
When shipping multiple items in a single box or mailer, separate them with protective layers of paper or foam to prevent scratching or friction between items.

Labeling and Documentation
As with shipping larger boxes or pallets, accurate labeling and proper documentation are essential for smooth shipping and delivery. When preparing your goods, make sure to:
1. Label Clearly
Ensure that the ship-to and return addresses are clear, complete, and accurate. This minimizes the risk of delivery errors. Using a high-quality thermal label printer will further help to minimize these risks.
2. Add Fragile Labels
If your products are delicate, use "Fragile" labels to alert handlers to exercise extra care during transportation. Be sure that these labels are clearly visible on both the top and bottom of the packaging you choose.
3. Include Documentation
For international shipments, provide accurate customs declarations and other necessary documents to avoid delays at customs and potential surprise backcharges.
Weighing and Measuring Accurately
Correctly measuring and weighing your packages is crucial to avoid unexpected shipping costs and delays.
Invest in a reliable shipping scale to accurately measure the weight of your packages. Overestimating or underestimating weight can lead to costly reweigh charges.
Remember that when inputting your shipment's weight and dimensions during booking, it is best practice to round both measurements up to the nearest whole number.
Choosing the Right Shipping Carrier
Different carriers have different strengths, and selecting the right shipping carrier can significantly impact your shipping process. Consider factors such as speed, cost, and reliability:
National carriers, for example, may offer a wider range of services for cross-country, cross-border, and even international shipments, while smaller regional carriers may offer services or rates that better suit your business' needs when shipping within a select area, such as a state, province, or greater metropolitan area.

Considering Insurance for Valuable Items
For valuable or high-ticket items, consider purchasing shipping insurance, or offering it as an option for your customers to purchase.
This protects you and your customers in case of lost, damaged, or stolen shipments, and can provide additional peace of mind while bolstering your business' reputation.
Tracking and Communication
For most customers, tracking is an all-but-mandatory part of the modern shipping journey, and as such is an integral part of providing a strong customer experience and boosting customer retention.
If possible, set up automated email notifications to update customers about order confirmation, shipping, and delivery.
This will keep your customers' minds at ease while their shipments are in transit and can help to mitigate potential headaches in the event that there are issues with the shipment.
Trust Freightcom to Offer More Shipping Services for All Your Products
While the process of shipping flat products has its own unique set of challenges, as with any form of shipping the end goal is to get the best service possible for the best available rate.
Freightcom is designed to help with that.
Contact one of our shipping experts today and see how Freightcom can supercharge your shipping on flat packs, pallets, and everything in-between.